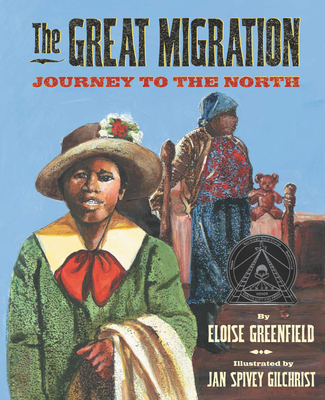 The Great Migration: Journey to the North
Publication Date:
September 15th, 2020
Publisher:
Amistad Books for Young Readers
Usually Ships in 1 to 5 Days
Description
We were one family among the many thousands. Mama and Daddy leaving home, coming to the city, with their hopes and their courage, their dreams and their children, to make a better life.
In this beautiful collection of poems and collage artwork, award winners Eloise Greenfield and Jan Spivey Gilchrist gracefully depict the experiences of families like their own, who found the courage to leave their homes behind during the Great Migration and make new lives for themselves elsewhere. 
When Eloise Greenfield was four months old, her family moved from their home in Parmele, North Carolina, to Washington, D.C. Before Jan Spivey Gilchrist was born, her mother moved from Arkansas and her father moved from Mississippi. Both settled in Chicago, Illinois. Though none of them knew it at the time, they had all become part of the Great Migration.
The Great Migration concludes with a bibliography.
Praise for The Great Migration: Journey to the North
Together, the immediate words, striking images, and Greenfield's personal story create a powerful, haunting view of a pivotal moment in U.S. history even as they show the universal challenges of leaving home behind and starting a new life. — Booklist (starred review)
Frequent collaborators Greenfield and Gilchrist (Brothers & Sisters: Family Poems) shape an evocative portrait of African-Americans who moved North during the Great Migration between 1915 and 1930 to escape Ku Klux Klan–fueled racism and to secure better lives…[L]ilting poetry and pictures capture a sense of both apprehension and hope…Making intriguing use of photographs of people, news headlines, maps, and painted elements, each of Gilchrist's collages has a distinctive look and lighting, ranging from conventional portraits of the travelers to more abstract images.
— Publishers Weekly
Greenfield's lyricism and her clear, narrative style make this book a solid choice for independent reading and for reading aloud. — School Library Journal