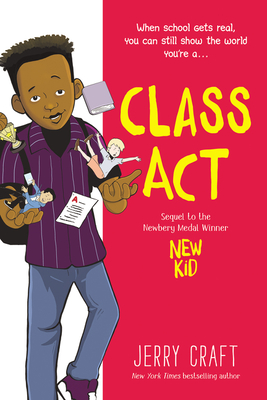 Class Act: A Graphic Novel
Publication Date:
October 6th, 2020
Publisher:
Quill Tree Books
Usually Ships in 1 to 5 Days
Description
New York Times bestselling author Jerry Craft returns with a companion book to New Kid, winner of the 2020 Newbery Medal, the Coretta Scott King Author Award, and the Kirkus Prize. This time, it's Jordan's friend Drew who takes center stage in another laugh-out-loud funny, powerful, and important story about being one of the few kids of color in a prestigious private school.
Eighth grader Drew Ellis is no stranger to the saying "You have to work twice as hard to be just as good." His grandmother has reminded him his entire life. But what if he works ten times as hard and still isn't afforded the same opportunities that his privileged classmates at the Riverdale Academy Day School take for granted?
To make matters worse, Drew begins to feel as if his good friend Liam might be one of those privileged kids. He wants to pretend like everything is fine, but it's hard not to withdraw, and even their mutual friend Jordan doesn't know how to keep the group together.
As the pressures mount, will Drew find a way to bridge the divide so he and his friends can truly accept each other? And most important, will he finally be able to accept himself?
New Kid, the first graphic novel to win the Newbery Medal, is now joined by Jerry Craft's powerful Class Act.
Praise for Class Act: A Graphic Novel
"A well-Crafted, visually rich, truth-telling tale for our troubled times that affirms the eternal importance of friends." — Kirkus Reviews (starred review)
"Craft makes the story honest and believable and presents it as a powerful, if difficult to achieve, real-world possibility. Another work of resounding understanding and empathy." — Booklist (starred review)
"Lightning strikes twice as Craft again produces a funny and appealing yet sensitive and nuanced middle grade tale of inequity and microaggressions." — School Library Journal (starred review)
"Hilarious and heartfelt. Craft adeptly balances poignant questions…with laugh-out-loud moments of adolescence, making Class Act a substantial snapshot of the interior life of boys, especially Black boys who are too often not afforded such attention, love, and care." — The Horn Book (starred review)
"Craft approaches Drew's—and his devoted friends'—dilemmas with candor and respect. Kids who missed volume one can dive in here and backtrack later; kids already on board will identify episodes and new characters around which they can build hope for a third entry."
— Bulletin of the Center for Children's Books (starred review)
"Deftly weaving discussions of race, socioeconomics, colorism, and solidarity into an accessible narrative, Craft offers a charming cast journeying through the complicated landscapes of puberty, self-definition, and changing friendships, all while grappling with the tensions of attending an institution that structurally and culturally neglects students of color." — Publishers Weekly (starred review)
"A warm hug of a book…Class Act's modeling of thoughtful communication and its celebration of friendship are appealing and heartfelt. Craft's expressive characters, strong command of vibrant color and hits of visual humor—including references to popular books in the double-page spreads that open each chapter—are downright delightful." — BookPage
"A moving and often very funny story about the convergence of an awkward age (13 to 14) with an awkward age (America's racial reckoning)…. [Craft] balances his biting sendup of American race relations with poignant family portraits, and the art is most striking in quiet moments." — The New York Times Book Review