Discounted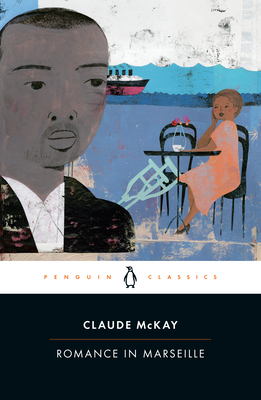 Romance in Marseille
Previous price:

$17.00
Current price:

$16.00
Publication Date:
February 11th, 2020
Publisher:
Penguin Classics
Usually Ships in 1 to 5 Days
Description
The pioneering novel of physical disability, transatlantic travel, and black international politics. A vital document of black modernism and one of the earliest overtly queer fictions in the African American tradition. Published for the first time.
A Penguin Classic
A New York Times Book Review Editors' Choice/Staff Pick
Vulture's Ten Best Books of 2020 pick
Buried in the archive for almost ninety years, Claude McKay's Romance in Marseille traces the adventures of a rowdy troupe of dockworkers, prostitutes, and political organizers--collectively straight and queer, disabled and able-bodied, African, European, Caribbean, and American. Set largely in the culture-blending Vieux Port of Marseille at the height of the Jazz Age, the novel takes flight along with Lafala, an acutely disabled but abruptly wealthy West African sailor. While stowing away on a transatlantic freighter, Lafala is discovered and locked in a frigid closet. Badly frostbitten by the time the boat docks, the once-nimble dancer loses both of his lower legs, emerging from life-saving surgery as what he terms "an amputated man." Thanks to an improbably successful lawsuit against the shipping line, however, Lafala scores big in the litigious United States. Feeling flush after his legal payout, Lafala doubles back to Marseille and resumes his trans-African affair with Aslima, a Moroccan courtesan. With its scenes of black bodies fighting for pleasure and liberty even when stolen, shipped, and sold for parts, McKay's novel explores the heritage of slavery amid an unforgiving modern economy. This first-ever edition of Romance in Marseille includes an introduction by McKay scholars Gary Edward Holcomb and William J. Maxwell that places the novel within both the "stowaway era" of black cultural politics and McKay's challenging career as a star and skeptic of the Harlem Renaissance.
Praise for Romance in Marseille
Vulture's Ten Best Books of 2020 pick
"Encompassing a huge diversity of perspectives—including memorable evocations of Marseille's black Marxist scene and of its queer subculture—the novel remains radical in its clear-eyed assessment of racism and unsentimental depiction of disability."
—The New Yorker
"The book's themes — queerness, the legacy of slavery, postcolonial African identity — are among those at the forefront of literature today. But McKay lived from 1889 to 1948, and was a central figure of the Harlem Renaissance. Now, a century after that movement began, Romance in Marseille will finally be published…Its debut coincides with recent shifts in thinking about the Renaissance, which is increasingly seen as grappling not only with race but with class, gender, sexuality and nationality….Our sense of the Harlem Renaissance, Holcomb said, is growing to encompass 'something much more complex and broader than the original idea' of 'a cultural nationalist African-American movement.' Romance in Marseille, one of the Renaissance's most radical texts, hidden for decades from public view, makes a natural avatar for that development."
—Talya Zax, The New York Times
 
"Today Romance in Marseille seems less shocking than strikingly woke, given that its themes include disability, the full spectrum of sexual preference, radical politics and the subtleties of racial identity… Romance in Marseille reflects the 1930s discovery and celebration of outcasts, rogues and criminals, all of them regarded as more vital and passionate than the upright citizens of etiolated bourgeois society."
—Michael Dirda, Washington Post
 
"The Best New Novel Was Written 90 Years Ago… you could easily mistake it for a novel written last year. It's about bodies, disability, sex, Islam, slavery, and capital. There are lesbians. There is gender-bending. There is socialism. All of this in 130 pages — custom-designed, it would seem, for the modern obliterated attention span! But as with any novel, the themes are only bits of thread unless woven into a dazzling tapestry of a character, which is what we have in Lafala… a novel out of time." 
—Molly Young, Vulture
"From today's vantage point, McKay looks all the more like the harbinger of a global era. Amiable With Big Teeth... is an unsparing satire of the shenanigans of self-appointed backdoor diplomats and manipulators of public opinion — a historical novel with newfound contemporary resonance. Romance in Marseille, like his sprawling 1929 classic Banjo, also set in the south of France, shows McKay presciently grappling with the destinies of those he calls the 'outcasts and outlaws of civilizations' — migrants in thriving port cities central to the flow of global commerce — and with the violent upheavals and desperate striving that deposited them there... McKay's political critique remains biting: In their brutality, his Marseille books insist that, then as now, it is always 'the poor, the vagabonds, the bums of life' who pay the heaviest price 'for banditry in high places.' ... In Romance in Marseille, queer desire is simply a fact — an acknowledged part of the social landscape — in a way that makes the book seem all the more ahead of its time."
—Brent Hayes Edwards, The New York Times Book Review 

"gorgeously seamy … an unshackled and bitingly funny melodrama … as heady and bewitching as the scene of a Vieux Port dance floor"
—Sam Sacks, The Wall Street Journal
"Toward the end of Romance in Marseille, the narrator tries to make sense of the magical grip Aslima exerts on Lafala: 'Something was always burning, never consuming itself and going out, but always holding him.' It's a description that also captures the enduring appeal of McKay, the romancer and dreamer who in this novel, unrealized in his lifetime, forges a tender tale, a mounting litany of loss and regret."
—Colin Grant, The New York Review of Books
"McKay remains, despite being less well known, uniquely timeless. He's incredibly progressive for his time, especially with regard to queer politics, but what he's talking about … — … telling one's own stories, about how global capitalism functions (and doesn't), about the complexity of life in the diaspora, about the complexity of sexuality and identity — are things that speak to us viscerally in the present. His fiction grasps how these forces, as possibility and problem, are reshaping the world in ways that other writers from that time don't quite address."
—Eric Newman, Los Angeles Review of Books