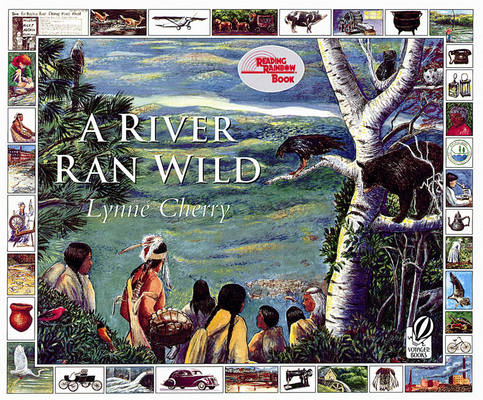 A River Ran Wild: An Environmental History
Publication Date:
April 1st, 2002
Usually Ships in 1 to 5 Days
Description
Beloved author of the classic The Great Kapok Tree, Lynne Cherry explores the true story of the Nashua River in Massachusetts in this nonfiction picture book about restoration, renewal, and environmental consciousness.
Over 7,000 years ago Native Americans settled on the Nashua River, a beautiful and leafy valley. But the industrialization of nearby areas would lead to the deterioration of natural habitats. Each double spread examines brief periods of time when the river and surrounding areas teemed with wildlife. Lynne Cherry's contrasting illustrations of the lush valley and the eventual polluted river deliver an astonishing look at our dramatic need for conservation efforts. This pictorial history of the river, edging towards a hopeful scene of modern-day descendants of both Native Americans and European settlers who come together to combat pollution and restore the beauty of the river, is an intelligent tale that shows young readers how they can do their part in taking care of the world around them, one river at a time.
Praise for A River Ran Wild: An Environmental History
"An important, intelligently presented story."--Kirkus Reviews
"Readers will be moved to consider their personal impact on the environment and what they can do to make a difference."--Booklist
"An important contribution to literature."--School Library Journal
—