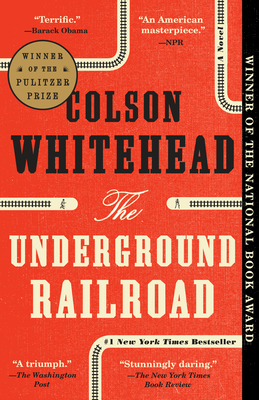 The Underground Railroad: A Novel
Publication Date:
January 30th, 2018
Usually Ships in 1 to 5 Days
In The Underground Railroad, Whitehead captures the quotidian horror of slavery in a way that I've never read. The banality of evil is on full display—but so is the human spirit. Cora's escape and life on the run is both terrifyingly real and uncomfortably familiar. The way the author plays fast and loose with time and elements of magical realism, such as making the Underground Railroad a literal thing, gives this story an otherworldly quality. This may be Colson Whitehead's masterpiece.
Summer 2018 Reading Group Indie Next List
Description
#1 NEW YORK TIMES BESTSELLER • PULITZER PRIZE WINNER • NATIONAL BOOK AWARD WINNER • "An American masterpiece" (NPR) that chronicles a young slave's adventures as she makes a desperate bid for freedom in the antebellum South. • The basis for the acclaimed original Amazon Prime Video series directed by Barry Jenkins.
Cora is a slave on a cotton plantation in Georgia. An outcast even among her fellow Africans, she is on the cusp of womanhood—where greater pain awaits. And so when Caesar, a slave who has recently arrived from Virginia, urges her to join him on the Underground Railroad, she seizes the opportunity and escapes with him.
In Colson Whitehead's ingenious conception, the Underground Railroad is no mere metaphor: engineers and conductors operate a secret network of actual tracks and tunnels beneath the Southern soil. Cora embarks on a harrowing flight from one state to the next, encountering, like Gulliver, strange yet familiar iterations of her own world at each stop.
As Whitehead brilliantly re-creates the terrors of the antebellum era, he weaves in the saga of our nation, from the brutal abduction of Africans to the unfulfilled promises of the present day. The Underground Railroad is both the gripping tale of one woman's will to escape the horrors of bondage—and a powerful meditation on the history we all share.
Look for Colson Whitehead's new novel, Crook Manifesto, coming soon!
Praise for The Underground Railroad: A Novel
WINNER OF THE PULITZER PRIZE, THE NATIONAL BOOK AWARD, THE ALA ANDREW CARNEGIE MEDAL AND THE HURSTON/WRIGHT AWARD
NAMED A BEST BOOK OF THE YEAR BY THE NEW YORK TIMES BOOK REVIEW, THE WALL STREET JOURNAL, WASHINGTON POST, TIME, PEOPLE, NPR AND MORE
#1 NEW YORK TIMES BESTSELLER
A PARADE BEST BOOK OF ALL TIME
OPRAH'S BOOK CLUB PICK
"Terrific." —Barack Obama
 
"An American masterpiece." —NPR
 
"Stunningly daring." —The New York Times Book Review
"A triumph." —The Washington Post
"Potent. . . .  Devastating. . . . Essential." —Michiko Kakutani, The New York Times
"Whitehead's best work and an important American novel." —The Boston Globe
"Electrifying. . . . Tense, graphic, uplifting and informed, this is a story to share and remember." —People
"Heart-stopping." —Oprah Winfrey
"The Underground Railroad is inquiring into the very soul of American democracy. . . . A stirring exploration of the American experiment." —The Wall Street Journal
"A brilliant reimagining of antebellum America." —The New Republic
"Colson Whitehead's book blends the fanciful and the horrific, the deeply emotional and the coolly intellectual. Whathe comes up with is an American masterpiece." —Ann Patchett, author of Bel Canto
"The Underground Railroad enters the pantheon of . . . the Great American Novels. . . . A wonderful reminder of whatgreat literature is supposed to do: open our eyes, challengeus, and leave us changed by the end." —Esquire
"[Whitehead] is the best living American novelist." —Chicago Tribune
"Masterful, urgent. . . . One of the finest novels written aboutour country's still unabsolved original sin." —USA Today
"Brilliant. . . . An instant classic that makes vivid the darkest, most horrific corners of America's history of brutality against black people." —HuffPost
"Singular, utterly riveting. . . . You'll be shaken and stunned by Whitehead's imaginative brilliance. . . . The Underground Railroad is a book both timeless and timely. It is a book for now; it is a book that is necessary." —BuzzFeed
"Whitehead is a writer of extraordinary stylistic powers. . . . [The Underground Railroad] offers many testaments to Whitehead's considerable talents and examines a deeply relevant and disturbing period of American history." —The Christian Science Monitor
"[An] ingenious novel. . . . A successful amalgam: a realistically imagined slave narrative and a crafty allegory; a tense adventure tale and a meditation on America's defining values." —Minneapolis Star Tribune
"Whitehead's novel unflinchingly turns our attention to the foundations of the America we know now." —Elle
"Perfectly balances the realism of its subject with fabulist touches that render it freshly illuminating." —Time
"I haven't been as simultaneously moved and entertained bya book for many years. This is a luminous, furious, wildly inventive tale that not only shines a bright light on one of the darkest periods of history, but also opens up thrilling new vistas for the form of the novel itself." —The Guardian