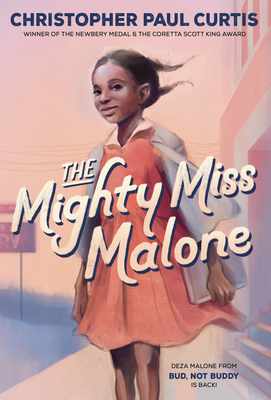 The Mighty Miss Malone
Publication Date:
March 12th, 2013
Usually Ships in 1 to 5 Days
Description
"We are a family on a journey to a place called wonderful" is the motto of Deza Malone's family. Deza is the smartest girl in her class in Gary, Indiana, singled out by teachers for a special path in life. But it's 1936 and the Great Depression has hit Gary hard, and there are no jobs for black men. When her beloved father leaves to find work, Deza, Mother, and her older brother, Jimmie, go in search of him, and end up in a Hooverville outside Flint, Michigan. Jimmie's beautiful voice inspires him to leave the camp to be a performer, while Deza and Mother find a new home, and cling to the hope that they will find Father. The twists and turns of their story reveal the devastation of the Depression and prove that Deza truly is the Mighty Miss Malone.
About the Author
CHRISTOPHER PAUL CURTIS is the bestselling author of Bud, Not Buddy, winner of the Newbery Medal and the Coretta Scott King Medal, among many other honors. His first novel, The Watsons Go to Birmingham—1963, was also singled out for many awards, among them a Newbery Honor and a Coretta Scott King Honor.
Praise for The Mighty Miss Malone
Publisher's Weekly Best Children's Book of 2012
Kirkus Reviews Best Teen's Book of 2012
Starred Review, Kirkus Reviews, December 15, 2011:
"Deza is one great heroine in her own right, a fitting literary companion to Bud Caldwell."
Starred Review, Publishers Weekly, December 12, 2011:
"Though the resolution of the family's crisis is perhaps far-fetched, some readers will feel they are due a bit of happiness; others will be struck by how little has changed in 75 years for the nation's have-nots."