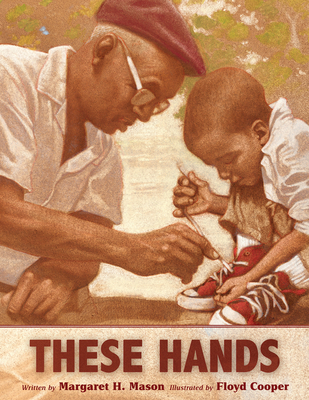 These Hands
Publication Date:
September 1st, 2015
Usually Ships in 1 to 5 Days
Description
Joseph's grandpa could do almost anything with his hands. He could play the piano, throw a curveball, and tie a triple bowline knot in three seconds flat. But in the 1950s and 60s, he could not bake bread at the Wonder Bread factory. Factory bosses said white people would not want to eat bread touched by the hands of the African Americans who worked there.In this powerful intergenerational story, Joseph learns that people joined their hands together to fight discrimination so that one day, their hands—Joseph's hands—could do anything at all in this whole wide world.
About the Author
Margaret H. Mason lives in Ferndale, Michigan. She learned about the Detroit Wonder Bread factory's discriminatory policies in the 50's and 60's from an old friend and Bakers Union stalwart whose voice still trembled 30 years later when he talked about the humiliation he and his co-workers endured in the past.
The illustrator of more than sixty children's books, Floyd Cooper is a past recipient of the Coretta Scott King Award for Illustration and a four-time recipient of the Coretta Scott King Honor Award. He lives in Pennsylvania with his family. Visit his website at www.floydcooper.com.
Praise for These Hands
Floyd Cooper is a four-time recipient of the Coretta Scott King Honor.
"For all the many titles that appear on segregation and protest for younger readers, this one stands tall not just for delving into a piece of labor history not previously covered, but for its ability to relate history with heart and resonance."—Kirkus, starred review
". . . stirring pictures celebrate the historic civil rights and union protests that brought attention to the issue . . . The story's roots in rarely told history will widen the audience for this moving title to older readers, too."—Booklist
"It's a moving study of multigenerational relationships and triumph over discrimination."—Publishers Weekly —