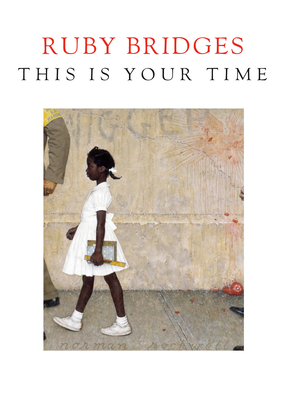 This Is Your Time
Publication Date:
November 10th, 2020
Publisher:
Delacorte Press
Usually Ships in 1 to 5 Days
This stunning book shares the first-hand account of Ruby Bridges' remarkable story. Though intended for children, adults, too, have much to learn from this civil rights icon.
Winter 2020 Kids Indie Next List
Description
NEW YORK TIMES BESTSELLER • CBC KIDS' BOOK CHOICE AWARD WINNER
Civil rights icon Ruby Bridges—who, at the age of six, was the first black child to integrate into an all-white elementary school in New Orleans—inspires readers and calls for action in this moving letter. Her elegant, memorable gift book is especially uplifting in the wake of Kamala Harris making US history as the first female, first Black, and first South Asian vice president–elect.
 
Written as a letter from civil rights activist and icon Ruby Bridges to the reader, This Is Your Time is both a recounting of Ruby's experience as a child who had to be escorted to class by federal marshals when she was chosen to be one of the first black students to integrate into New Orleans' all-white public school system and an appeal to generations to come to effect change.
 
This beautifully designed volume features photographs from the 1960s and from today, as well as stunning jacket art from The Problem We All Live With, the 1964 painting by Norman Rockwell depicting Ruby's walk to school.
 
Ruby's honest and impassioned words, imbued with love and grace, serve as a moving reminder that "what can inspire tomorrow often lies in our past." This Is Your Time will electrify people of all ages as the struggle for liberty and justice for all continues and the powerful legacy of Ruby Bridges endures.
Praise for This Is Your Time
"Powerful.... Bridges' hopeful words, her faith born of experience, are soothing and encouraging in this time of unrest and uncertainty." —Kirkus Reviews, starred review
"Timely, powerful, and full of hope. This missive of truth, spoken by a true American hero, deserves a place in all libraries." —School Library Journal, starred review
"Ruby experienced unimaginable racial hatred, lost her oldest son to random violence, and still advocates for positive change. Kids will relate to Ruby's stories on many levels and be inspired by the difference one little girl made. A profoundly moving book." —Booklist, starred review