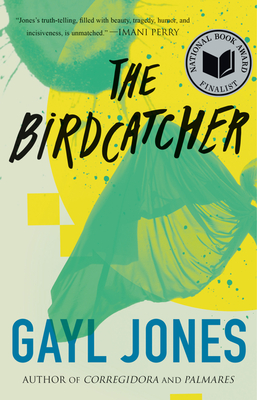 The Birdcatcher
Publication Date:
September 12th, 2023
Usually Ships in 1 to 5 Days
Description
NATIONAL BOOK AWARD FINALIST 2022
Publishers Weekly Top 10 BEST BOOKS OF 2022
"Gayl Jones's work represents a watershed in American literature."
—Imani Perry
Legendary writer Gayl Jones returns with a stunning new novel about Black American artists in exile
Gayl Jones, the novelist Toni Morrison discovered decades ago and Tayari Jones recently called her favorite writer, has been described as one of the great literary writers of the 20th century. Now, for the first time in over 20 years, Jones is publishing again. In the wake of her long-awaited fifth novel, Palmares, The Birdcatcher is another singular achievement, a return to the circles of her National Book Award finalist, The Healing.
Set primarily on the island of Ibiza, the story is narrated by the writer Amanda Wordlaw, whose closest friend, a gifted sculptor named Catherine Shuger, is repeatedly institutionalized for trying to kill a husband who never leaves her. The three form a quirky triangle on the white-washed island.
A study in Black women's creative expression, and the intensity of their relationships, this work from Jones shows off her range and insight into the vicissitudes of all human nature—rewarding longtime fans and bringing her talent to a new generation of readers.
Praise for The Birdcatcher
"Jones continues her marvelous run after last year's Pulitzer finalist Palmares with the gloriously demented story of an artist who keeps trying to kill her husband . . . . Jones, implicitly defiant, draws deeply from classic and global literature—a well-placed reference to Cervantes's windmills leaves the reader's head spinning. And like one of Amanda's inventive novels, this one ends on a surprising and playful turn. It ought to be required reading."
—Publishers Weekly, Starred Review
"The remarkable latest release by acclaimed novelist and poet Jones . . . Her prose is captivating, at moments coolly observational and at others profoundly intimate; the delicate balance is the mark of a truly great storyteller. An intriguing, tightly crafted, and insightful meditation on creativity and complicated friendships."
—Booklist, Starred Review
"Jones' mercurial, often inscrutable body of work delivers yet another change-up to readers' expectations."
—Kirkus Reviews
"This is a brilliant and unsparing examination of the burdens we place on friendship and marriage, the way that creative genius is misperceived as madness, the clumsy way mental health is addressed, the scourge of racism, and the alchemy of folklore and legacy bound in the secrets we hide."
—Lauren LeBlanc, Boston Globe
"Don't call it a comeback . . . Gayl Jones continues her resurgence with this novel focused on Black women creatives on Ibiza as one of them continues trying to kill her husband."
—Karla J. Strand, Ms.
"Gayl Jones constructs a novel that is part mystery, part thriller, and wholly captivating. . . . a shining segment of the American literary canon has been restored."
—Kate Webb, Times Literary Supplement UK
"Brilliant and incendiary, Jones's pairing of tragedy with dark humor cuts to the bone."
—O. Magazine
"[A novel with] the plush scenery of a travelogue, the misshapen soul of a noir, and the anarchic spirit of a trickster tale."
—The New Yorker
"Wows listeners with characters who are unique and appalling yet captivating."
—AudioFile