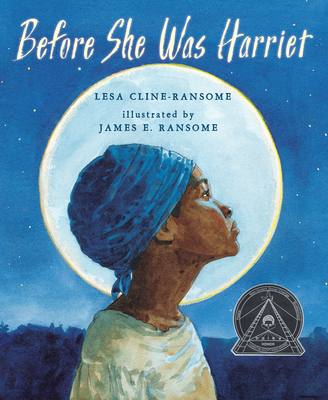 Before She Was Harriet
Publication Date:
June 11th, 2019
Usually Ships in 1 to 5 Days
Description
An evocative poem and stunning watercolors come together to honor an American heroine in a Coretta Scott King Honor and Christopher Award-winning picture book.
We know her today as Harriet Tubman, but in her lifetime she was called by many names. As General Tubman she was a Union spy. As Moses she led hundreds to freedom on the Underground Railroad. As Minty she was a slave whose spirit could not be broken. As Araminta she was a young girl whose father showed her the stars and the first steps on the path to freedom.
This lush, lyrical biography in verse begins with a glimpse of Harriet Tubman as an old woman, and travels back in time through the many roles she played through her life: spy, liberator, suggragist and more. Illustrated by James Ransome, whose paintings for The Creation won a Coretta Scott King medal, this is a riveting introduction to an American hero.
The paperback edition includes a new author's note, and a list of resources for further study.
A Junior Library Guild Selection
A Coretta Scott King Honor Book
A Christopher Award winner
A Jane Addams Children's Honor Book
Praise for Before She Was Harriet
★ "Simultaneously simple enough for young children to understand and sophisticated enough to inspire adults."—Booklist, Starred Review
 
★ "A memorable, lyrical reverse-chronological walk through the life of an American icon. While the text introduces readers to the details of Tubman's life, Ransome's use of watercolor . . . reveals Tubman's humanity, determination, drive, and hope. Ransome's lavishly detailed and expansive double-page spreads situate young readers in each time and place as the text takes them further into the past."—Kirkus Reviews, Starred Review
 
★ "This striking reverse chronology opens with a regal portrait of an elderly Harriet Tubman, after which the Ransomes chart her decades of work in pursuit of equality. [Lesa Cline-Ransome's] incisive free verse emphasize[s] Tubman's bravery in the face of a multitude of dangers. James Ransome's watercolor portraits imbue Tubman with a steely determination―at every age―in lush scenes often set against blazing summer skies and blue, moonlit nights. Beyond its recognition of all that Tubman accomplished, the book serves as a powerful reminder of how all children carry within them the potential for greatness."—Publishers Weekly, Starred Review
 
★ "Each episode in her compelling life is illustrated by a luminous watercolor. The expertly done expressive paintings evoke Tubman's strength and integrity showing 'the wisp of a woman with the courage of a lion.' This lovely tribute effectively communicates Tubman's ­everlasting bravery and resolve, and will ­inspire curious readers to learn more."—School Library Journal, Starred Review