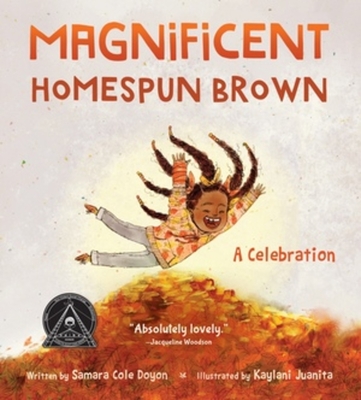 Magnificent Homespun Brown: A Celebration
Publication Date:
January 7th, 2020
Publisher:
Tilbury House Publishers
Usually Ships in 1 to 5 Days
Description
Coretta Scott King 2021 Honoree
A winner of the ILA 2021 Children's and Young Adults' Book Awards in the fiction category.
NCSS 2021 Notable Social Studies Book

Maine Lupine Award Winner

A CBC Recommended Book • A School Library Journal Best Book of the Year
A New York Public Library Best Picture Book of 2020
Kirkus Starred Review
PW Starred Review
School Library Journal Starred Review
Told by a succession of exuberant young narrators, Magnificent Homespun Brown is a story -- a song, a poem, a celebration -- about feeling at home in one's own beloved skin.
With vivid illustrations by Kaylani Juanita, Samara Cole Doyon sings a carol for the plenitude that surrounds us and the self each of us is meant to inhabit.
Praise for Magnificent Homespun Brown: A Celebration
Brown is never dreary or drab in this poetic exploration of its many expressions. Leisurely, image-rich verse renders it delicious, like caramel and cocoa, natural like river water and hemlock branches. Still, there is always a return to the personal as different girls, rendered in delicately quirky art, name their own joyous sense of brown — amber-like hair, radiant-like skin, creamy-like laughter, thundering-like power, cozy-like peace and magnificent like the sum of "all the treasures, places, and people I love coming together in me." Here then is a quiet book about pride and identity.
— Susan Faust - San Francisco Chronicle
Whether this delightful book is a mirror or a window for a child, it is a must-read for its celebration of love for oneself and one's family. Starred Review
— Clara Hendricks, Cambridge Public Library, MA - School Library Journal
Celebration of community and belonging. Starred Review
— Publishers Weekly
This "celebration" makes magic out of the everyday joys of being in the world. Starred Review
— Kirkus Reviews
Magnificent Homespun Brown is my absolute most cannot-stop-talking-about-it, cannot-stop-recommending-it book this year.
— PragmaticMom
This book is stunning, the definition of Brown Joy. I'm completely obsessed already and read the book twice immediately after opening it. The story itself has a handful of narrators, and is written in lyrical prose much like I Am Brown and From Tan to Tamarind.  The narrators fully embody happiness and comfortability in their own skin, exuberantly taking on a multitude of situations throughout the story. And can we just talk about these illustrations for a moment?? Kaylani Juanita illustrated one of my favorite books, When Aidan Became a Brother, and has possibly outdone herself with her work between these book covers. You can practically hear the giggles tumbling out of the characters mouths and flowing off of the pages into the air entirely. The representation is exquisite. A father and his daughter going on a hike, but she has both a cane and a service dog. A pair of siblings at a fair, a family at the beach. But nothing is point out about mobility devices or hearing aids, they purely exist as representation of the beautiful world we live in. THESE are the normalizations in stories that we need, unadulterated Black and Brown joy full of self-esteem and confidence being explained with SAT-worthy vocabulary. I truly love this book, it's described on the cover as a celebration but it's so much more than that. The conviviality conveyed in this picture book draws on the strength of family, ancestors, friendship, and finding the everyday jubilance in our lives.
— Corrie Locke-Hardy - thetinyactivist.com