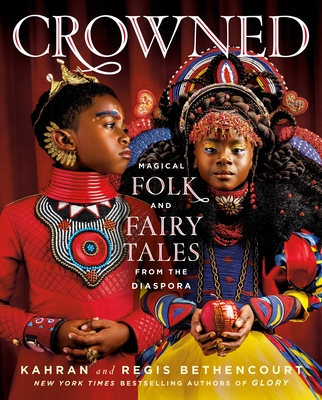 CROWNED: Magical Folk and Fairy Tales from the Diaspora
Publication Date:
May 23rd, 2023
Publisher:
St. Martin's Press
Usually Ships in 1 to 5 Days
Description
NEW YORK TIMES BESTSELLER
From the New York Times bestselling duo who brought you GLORY: Magical Visions of Black Beauty, comes CROWNED: Magical Folk and Fairy Tales from the Diaspora. Filled with visual magic and storytelling wonder, these stories reimagine our favorite and most beloved childhood fairy tales and folktales to encourage creativity, empower imagination, and foster self-esteem.

With a Foreword by Pulitzer Prize winner Salamishah Tillet
Revisit beloved classics, but with a twist, such as The Little Mermaid, Sleeping Beauty, Hansel and Gretel, Red Riding Hood, The Poisoned Apple, and find new favorites with stories created especially for the collection: Anansi and the Three Trials, Aku the Sun Maker, How the Zebra Got Its Stripes, The Legend of Princess Yennenga, and John Henry, the Steel-Drivin' Man.
A gift that will keep giving, CROWNED is a joyous celebration of Black beauty, determination, and imagination and a must-have for children and parents everywhere.
"Once again CreativeSoul Photography captures the beauty, innocence, and magic of black children. This is the book I've been waiting to give my grandchildren. It is a wonder of storytelling and imagery." — Michael Eric Dyson
Praise for CROWNED: Magical Folk and Fairy Tales from the Diaspora
"Vibrant photography and dynamic storytelling combine in this affirming and celebratory volume." - Kirkus
"I devoured this book. It is so visually stunning, filled with magical storytelling, capturing the reader's imagination from beginning to end." - BlackGirlNerds.com

"[O]ne of the most majestic, most creative storybooks money can buy...a feast for the imagination..." - Caribbean Life

Praise for GLORY:

"An exquisite pictorial love letter to Black children around the world." - Kirkus, starred review
"Glorious, indeed." - Booklist
""Glory" is Blackness in all its grace and beauty by way of the next generation. [...] Black is beautiful. [...] To be young, gifted and Black is where it's at." - Chicago Tribune
"But hardly any photo collection compares to the magic that is Glory. A must for our home. A must for Black children, for all children." --Ibram X. Kendi, New York Times bestseller and National Book Award-winning author of Stamped from the Beginning and How to Be An Antiracist
"Gorgeous photography, but so much more. A truly inspired and inspiring work that speaks eloquently to our inherent beauty and power." — Brittney Cooper, author of Eloquent Rage: A Black Feminist Discovers her Superpower

"Seeing our beauty reflected in our children and having our children see their natural beauty be fully embraced is a gift to the race and a gift to the world. This transcendent work acknowledges the grace, and brilliance held in our black bodies." — Michael Eric Dyson, New York Times bestseller
"These are not just photographs, this is artistically, politically, and socially important work." — Patrisse Khan-Cullors New York Times bestseller
"They've made the capturing and the depiction of the beauty and the limitlessness of blackness their mission. Their edict." — Damon Young, Founder of VerySmartBrothas.com