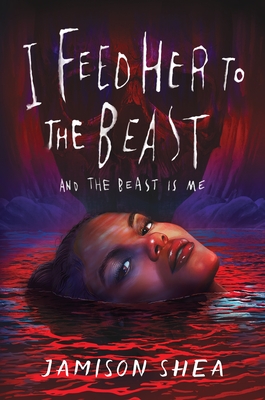 I Feed Her to the Beast and the Beast Is Me
Publication Date:
August 29th, 2023
Publisher:
Henry Holt and Co. (BYR)
Usually Ships in 1 to 5 Days
Description
There will be blood.

Ace of Spades meets House of Hollow in this villain origin story.
Laure Mesny is a perfectionist with an axe to grind. Despite being constantly overlooked in the elite and cutthroat world of the Parisian ballet, she will do anything to prove that a Black girl can take center stage. To level the playing field, Laure ventures deep into the depths of the Catacombs and strikes a deal with a pulsating river of blood.
The primordial power Laure gains promises influence and adoration, everything she's dreamed of and worked toward. With retribution on her mind, she surpasses her bitter and privileged peers, leaving broken bodies behind her on her climb to stardom.
But even as undeniable as she is, Laure is not the only monster around. And her vicious desires make her a perfect target for slaughter. As she descends into madness and the mystifying underworld beneath her, she is faced with the ultimate choice: continue to break herself for scraps of validation or succumb to the darkness that wants her exactly as she is—monstrous heart and all. That is, if the god-killer doesn't catch her first.
From debut author Jamison Shea comes I Feed Her to the Beast and the Beast Is Me, a slow-burn horror that lifts a veil on the institutions that profit on exclusion and the toll of giving everything to a world that will never love you back.
Praise for I Feed Her to the Beast and the Beast Is Me
"I Feed Her to the Beast and the Beast is Me is almost euphoric in its embrace of the horrific, and Laure's transformation will speak to girls who have had enough of being dominated and knocked down." - NPR
"Shea's raw, tension-filled emotional roller-coaster of a novel delivers frighteningly gory depictions of body horror. While the scares are grisly, Shea skillfully uses them to reveal hard truths surrounding institutions that capitalize on exclusion, and to depict the lengths one teen goes for acceptance and recognition." - Publisher's Weekly
"Gory, gripping, and visceral; examines how supernatural and systemic power unleash the monster within all of us." - Kirkus Reviews
"A charged series starter, drenched in gore, that uses horror to interrogate the brutalities of a calcified institution and its impact on real lives. Horror and ballet fans alike will find much to love." - Booklist
"With its monstrous ballerinas, beautiful monsters, and writing that drips with both beauty and gore, I Feed Her to the Beast and the Beast Is Me is a glorious debut. I would follow Jamison Shea down any dark path." —Erica Waters, Bram Stoker Award winning author of The River Has Teeth
"Cut-throat competition and eldritch horrors — of both the human and monstrous kind — collide headfirst in I Feed Her to the Beast and the Beast is Me. Gloriously haunting and darkly thrilling, Jamison Shea's words will leave you breathless." —Aiden Thomas, New York Times bestselling author of Cemetery Boys and The Sunbearer Trials.
"A beautifully wrought horror story that has you rooting for the monster in the face of insidious institutions. Shea's writing is as graceful as the dancers in their book and will leave readers screaming for more blood." —Trang Thanh Tran, New York Times bestselling author of She is a Haunting
"A hungry novel that smears your teeth with blood and ambition, then asks if you'd be willing to rip them out. Jamison Shea has cemented themself as a force to be reckoned with - and reminds us that when your enemies go low, you can always bury them there." —Andrew Joseph White, New York Times bestselling author of Hell Followed With Us
"A sinister, delicious dive into a truly captivating villain origin story. In lyrical prose and a cutting pace, Shea explores the ways power corrupts and the way racist, elitist systems push us to hunger for it. As Laure descended, I descended with her, and when I turned the final page I was starving for more." —Courtney Gould, award-winning author of The Dead and the Dark
"Brutal and beautiful, this book will drag you through the bloodied depths of fierce ambition and into a raw, untethered world of chaos, where salvation comes from crossing the line between girl and monster." —Lyndall Clipstone, author of The World at the Lake's Edge duology and Unholy Terrors