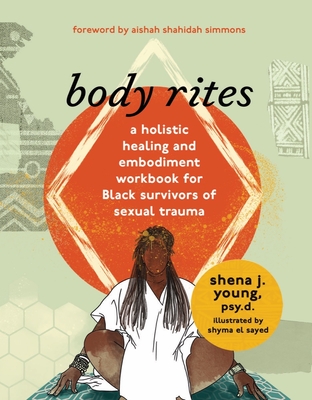 body rites: a holistic healing and embodiment workbook for Black survivors of sexual trauma
Publication Date:
November 14th, 2023
Publisher:
W. W. Norton & Company
Usually Ships in 1 to 5 Days
Description
A written companion and workbook for readers seeking to reclaim their bodies as home in healing from sexual trauma.
Body rites as a holistic healing journey, anchored in the practice of decolonizing healing and reclaiming body sovereignty, reaches back into indigenous roots and land-based healing. It centers remembering as a means of survival.
This workbook is the first of its kind: a resource of rituals divided into four healing journeys for Black women, femmes, and nonbinary survivors of sexual assault. The experiential workbook moves beyond prescriptive self-help models by providing a gentle guide and liaison to explore the impact of sexual trauma on the mind, body, heart, and spirit. It is an invitation to heal holistically, drawing upon psychophysiology, lived body wisdom, trauma-informed embodiment practices, kinship and ancestral connections, and African spiritual practices. Most urgently, this book is a series of intimate conversations with your "self"; and remembrance that healing lives at the core of your intuition.
Praise for body rites: a holistic healing and embodiment workbook for Black survivors of sexual trauma
This is an essential resource for sexual abuse survivors…. Young centers her advice in a robust journaling practice that seamlessly marries somatic and emotional self-investigation, and her methodology is grounded in African spirituality practice as well as an in-depth understanding of physiology and psychology, making for a wise and broad-minded approach.
— Publishers Weekly
Body rites is an incredibly grounding, sensitive, and informative guide to helping those who've experienced sexual assault feel reconnected to their bodies. dr young does a masterful job of fostering a sense of safety and warmth as she walks beside readers on the journey of healing. The book breaks down scientific and psychological terms in accessible and relevant ways, and is a radical and needed departure from other texts in this space. Many will be able to see themselves and be helped by her offering.
— Joy Harden Bradford, PhD, licensed psychologist, founder of Therapy for Black Girls, and author of Sisterhood Heals
Dr. shena is a poet and a healer, and in body rites she offers the gift of her breathtaking wisdom that is filled with magic, light, and soothing balm…. The illustrations are ethereal, and they beautifully affirm the holistic medicine she shares. Profoundly healing and infused with the utmost love, care, intention from tender and deep lived experience, you will not be the same person after this journey unfolds.
— Zahabiyah Yamasaki, MEd, RYT, author of Trauma-Informed Yoga for Survivors of Sexual Assault and Trauma-Informed Yoga Affirmation Card Deck
Body rites is a loving invitation to return to the old technologies of ancient global cultures to heal and bring forth new strength. By tapping into the epic memory of the body, survivors can rewrite their stories, not only the moments of harm but also what they have been socialized to believe about themselves. body rites meets survivors where they are, skillfully blending science-backed, trauma-informed best practices, spirituality, and tradition. shena writes with patience, warmth, expertise, and courage; it is clear that each of the words and chosen images are glimpses of shena's embodied practice offered as a gift to other survivors. Many survivors will immediately see themselves in these pages of body rites, while others will find themselves.
— Shesheena A. Bray, MSEd, NCC, owner of Going Inward Wellness, LLC, and program director of me too. International