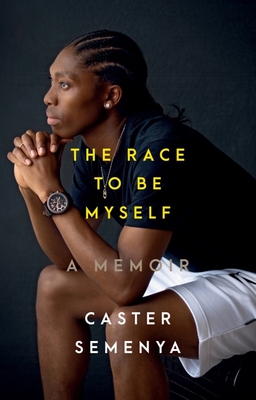 The Race to Be Myself: A Memoir
Publication Date:
October 31st, 2023
Publisher:
W. W. Norton & Company
Usually Ships in 1 to 5 Days
Description
World champion runner Caster Semenya offers an empowering account of her extraordinary life and career, and her trailblazing battle to compete on her own terms.
Olympian and World Champion Caster Semenya is finally ready to share the vivid and heartbreaking story of how the world came to know her name. Thrust into the spotlight at just eighteen years old after winning the Berlin World Championships in 2009, Semenya's win was quickly overshadowed by criticism and speculation about her body, and she became the center of a still-raging firestorm about how gender plays out in sports, our expectations of female athletes, and the right to compete as you are.
Told with captivating speed and candor, The Race to Be Myself is the journey of Semenya's years as an athlete in the public eye, and her life behind closed doors. From her rural beginnings running free in the dust, to crushing her opponents in record time on the track, to the accusations and falsehoods spread about her in the press, the legal trial she went through in order to compete, and the humiliation she has been forced to endure publicly and privately. This book is a searing testimony for anyone who has been forced to stop doing what they love.
Praise for The Race to Be Myself: A Memoir
Caster's story isn't just a tale of perseverance and poise, it's a story that makes us all interrogate our humanity and the world we build with our actions every day. An essential read.
— Trevor Noah
The Race to Be Myself is Semenya's unburdening about that time, when she became a figure onto which the world projected all of its opinions about gender in sports… Semenya breaks her long silence, calling out her critics and asserting her right to be celebrated for her natural gifts, as other athletes are, rather than punished for them.
— Jenn A. Miller - New York Times Book Review
Revelatory.
— New York Times
[A]ffecting… This chronicle of supreme resilience will resonate even with non–sports fans.
— Publishers Weekly
Told with candor, Semenya's story reminds readers to treat all humans with dignity and that being different does not mean being wrong.
— Booklist (starred review)
A furiously proud memoir.... Moving, inspiring testimony by a woman facing hardship merely "because of a biological condition I was born with."
— Kirkus Reviews
A gripping, provocative book.
— Library Journal (starred review)