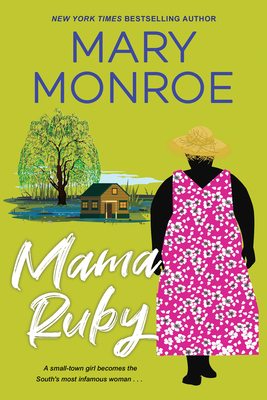 Mama Ruby (A Mama Ruby Novel #2)
Publication Date:
July 25th, 2023
Usually Ships in 1 to 5 Days
Description
The new edition of a modern classic by New York Times bestselling and award-winning author Mary Monroe!
An enduring tale of the rebellious early years of Mama Ruby in 1930s Louisiana – the bold, brassy, indomitable heroine of Mary Monroe's acclaimed debut, The Upper Room.
Growing up in Shreveport, Louisiana, Ruby Jean Upshaw is the kind of girl who knows what she wants and knows how to get it. By the time she's fifteen, Ruby has a taste for fast men and cheap liquor, and not even her preacher daddy can set her straight. Only Othella Mae Cartier, daughter of the town tramp, understands what makes Ruby tick.
When Ruby discovers she's in the family way, she's scared for the first time in her life. After hiding her growing belly, Ruby secretly gives birth to a baby girl at Othella's house. Othella talks Ruby into giving the child away—and with the help of a shocking revelation, convinces Ruby to run off with her to New Orleans.
But nothing can erase Ruby's memories of her child—or quell her simmering rage at Othella for persuading her to let her precious baby go. Someday there will be a reckoning. And Othella will learn that no one exacts revenge quite like Ruby Jean Upshaw . . .
Praise for Mama Ruby (A Mama Ruby Novel #2)
Praise for Mary Monroe's Mama Ruby Trilogy:
 
"Engaging …the dialogue and setting are reminiscent of Zora Neale Hurston, but the story has a bizarre, violent edge … la Stephen King. Fantastic and exaggerated, the novel may seem dated in its descriptions of race and sex, but it is a candid portrayal of the cold-blooded yet fascinating Mama Ruby." —Publishers Weekly on The Upper Room
 
"Monroe keeps the suspense high, and readers will draw a bated breath with the turn of each page." —Booklist on Mama Ruby
"A spicy mixture of family scandal, mother-daughter betrayal, and good-for-nothing men." —Publishers Weekly on Lost Daughters

"Monroe is a masterful storyteller." —Philadelphia Inquirer
"Mary Monroe's prequel to The Upper Room reintroduces readers to Mama Ruby, a fierce and indomitable woman… Though readers new to the series will have to accept the dialect, ever-present threat of violence, and explicit sex scenes, they'll appreciate the compelling period and the unapologetic characters. Familiarity with The Upper Room smooths the way." —Publishers Weekly on Mama Ruby