Preorder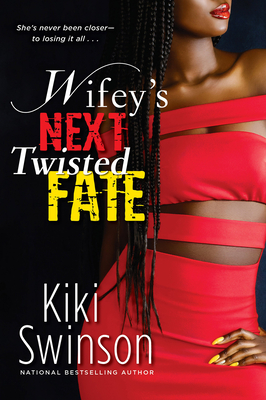 Wifey's Next Twisted Fate
Publication Date:
December 26th, 2023
Description
Between the betrayals, lies, and relentless body drops, everything is on the line in national bestselling author and urban lit superstar Kiki Swinson's explosive new series set in South Beach and featuring the gritty, fierce, unforgettable Kira from Swinson's bestselling Wifey novels . . .


Kira's every icy instinct told her that killing her father would finally get the heat off her and her sexy drug kingpin fiancé, Dylan. But now she's under relentless pressure even her gutsy maneuvers are no match for . . .
Her rock-solid trust in Dylan is crumbling as he unjustly blames her for his mother's death—and spirals into grief-fueled paranoia. She's fighting to hold her nerve as a determined homicide detective brutally ups the ante to finally nail her—even as she ruthlessly pursues the insider who's taking a sledgehammer to her and Dylan's hard-won street reputations . . .

But when Dylan's vicious rival makes the ultimate move against Kira, her most devious schemes go up in smoke. And with Dylan on a bloody rampage of revenge, cutting her losses puts Kira at the mercy of a trap she never saw coming—and survival isn't guaranteed . . .
About the Author
Kiki Swinson is a nationally bestselling author whose novels, inspired by her experiences and a five-year stint in federal prison, have sold over 3.4 million copies. Swinson's works feature resilient women making tough—and sometimes not quite legal—decisions to survive. She completed her first novel while incarcerated and her second novel, Wifey, went on to become a #1 Essence® bestseller and the first installment in one of today's most popular urban series. A native of Portsmouth, Virginia—and a former hustler's wife—Swinson resides in Bel Air, Maryland. Visit her on instagram at @AllThingsKikiSwinson.