Preorder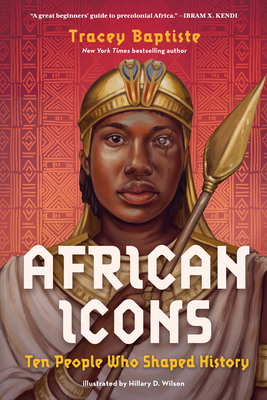 African Icons: Ten People Who Shaped History
Publication Date:
January 2nd, 2024
Publisher:
Algonquin Young Readers
Tracey Baptiste offers a fascinating look at influential Africans throughout history, shining a much-needed light on the impact that the people of Africa have had not only on their own history, but on that of the world.
November/December 2021 Kids Indie Next List
Description
In this expansive collection of history, meet ten real-life kings, queens, inventors, scholars, and visionaries who lived in Africa thousands of years ago and changed the world.
Black history begins thousands of years ago with the many cultures and people of the African continent. Through portraits of ten heroic figures, bestselling author Tracey Baptiste takes readers on an empowering, energetic journey through time to meet some of the great leaders and thinkers whose vision built nations and shaped the course of history:
Menes: Creator of Dynasties
Merneith: A Queen Erased
Imhotep: From Peasant to God
Aesop: The Wisest Man in the Ancient World
Hannibal Barca: Unparalleled Military Strategist
Terence: North African Playwright
Amanirenas: Warrior, Diplomat, Queen
Tin Hinan: Founder of a City on the Dunes
Mansa Musa: The Richest Man of All Time
Queen Idia: Kingmaker
Illustrator Hillary D. Wilson's brilliant portraits accompany each profile, along with vivid, information-filled landscapes, maps, and graphics for readers to pore over and return to again and again. This rich and thrilling work, which celebrates Black excellence and provides an essential correction to Eurocentric tellings of history, will enthrall readers of all ages.
"In African Icons, Baptiste engages in the hard work of unveiling the myths about the African continent to young readers . . . This is a great beginner's guide to pre-colonial Africa." —Ibram X. Kendi, National Book Award-winning author of Stamped from the Beginning and How to Be an Antiracist  
Praise for African Icons: Ten People Who Shaped History
A New York Public Library 2021 Best Book for Kids
A 2021 Kids' Indie Next Pick
A Kirkus and SLJ Best Book of 2021
"In African Icons: Ten People Who Shaped History, Baptiste engages in the hard work of unveiling the myths about the African continent to young readers. She pieces together the stories of ten people in a continent that fueled the world. This is a great beginner's guide to pre-colonial Africa."—Ibram X. Kendi, National Book Award-winning author of Stamped from the Beginning and How to Be an Antiracist
* "Baptiste sheds light on the rich and complex pre-enslavement history of the African continent . . . A spellbinding collection . . . An impeccably researched revelation that fills a too wide gap in collections; it's unfair how long it's taken for these histories to be made public to young readers."—SLJ, starred review
* "What Baptiste accomplishes in only 139 pages of narrative is near miraculous. She lifts the veil intentionally cast over African history, granting readers a veritable feast of information and inspiration . . . Wilson's portraits of each figure exude such beauty, strength, power, and, above all, dignity as to be nearly breathtaking. Each one gazes out at readers with a regal confidence that's sure to inspire them to gaze back . . . Black readers of any age will see themselves reflected in the amazing lives chronicled, many of whom may be new to readers. Non-Black readers will get a window into the marvelous history of a continent oft overlooked and relegated to a single narrative. Refreshingly free of generalizations, this impressively researched work was clearly a massive undertaking (as evidenced by the source notes), presenting figures from multiple parts of the continent in the truth of their cultural and historical richness. The result is empowering, necessary, and required reading for all. Game changing."—Kirkus Reviews, starred review
* "Riveting . . . A rich account of innovative, oft-untold breakthroughs that took place in Africa before European colonization . . . Lush full-color art, depicting African luminaries and kingdoms in all of their glory. Concise and well researched, this robust, historically accurate timeline of the 'great [African] continent and its people' will serve as an invaluable resource for years to come."—Publishers Weekly, starred review
"Readers will be fascinated by the lives of these icons and gain a real appreciation of Africa's underrepresented place in world history."—Booklist
"Historical African leaders are introduced in thrilling accounts of their lives; each entry is accompanied by an eye-catching full-color (speculative) portrait."—Horn Book
"Tracey Baptiste takes on a formidable task with this book . . . Baptiste's muscular prose is compelling and the majority of the figures will be new to readers. Even the ones I had heard of (Aesop and Hannibal, for example) were put into a historical context that refreshed my interest."—Youth Services Book Review
"African Icons is a great read… It empowers Black kids, informing them that they can do great things just like the people before them. …jam-packed with amazing facts."—The City Book Review, Kids' BookBuzz
"A fascinating and informative journey across Africa to meet some of the great leaders and thinkers whose vision built a continent and shaped the world. . . Enhanced with the museum quality artwork of Hillary Wilson, African Icons: Ten People Who Shaped History is an inherently entertaining and impressively informative history that is the perfect introduction to African history."—The Midwest Book Review
"True, lively, kid-friendly, and fun to read, even if you're an adult."—The Philadelphia Tribune