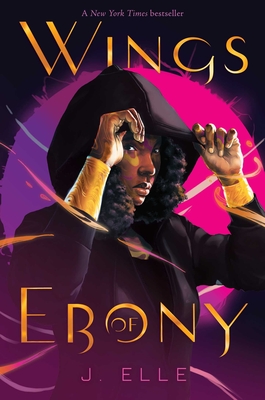 Wings of Ebony
Publication Date:
January 26th, 2021
Publisher:
Denene Millner Books/Simon & Schuster Books for Young Readers
Usually Ships in 1 to 5 Days
Description
Instant New York Times bestseller!
"A remarkable, breathtaking, earthshaking, poetic thrillride." —Daniel José Older, New York Times bestselling author of Shadowshaper
​In this riveting, keenly emotional debut fantasy, a Black teen from Houston has her world upended when she learns about her godly ancestry and must save both the human and god worlds. Perfect for fans of Angie Thomas, Tomi Adeyemi, and The Hunger Games!
"Make a way out of no way" is just the way of life for Rue. But when her mother is shot dead on her doorstep, life for her and her younger sister changes forever. Rue's taken from her neighborhood by the father she never knew, forced to leave her little sister behind, and whisked away to Ghizon—a hidden island of magic wielders.
Rue is the only half-god, half-human there, where leaders protect their magical powers at all costs and thrive on human suffering. Miserable and desperate to see her sister on the anniversary of their mother's death, Rue breaks Ghizon's sacred Do Not Leave Law and returns to Houston, only to discover that Black kids are being forced into crime and violence. And her sister, Tasha, is in danger of falling sway to the very forces that claimed their mother's life.
Worse still, evidence mounts that the evil plaguing East Row is the same one that lurks in Ghizon—an evil that will stop at nothing until it has stolen everything from her and everyone she loves. Rue must embrace her true identity and wield the full magnitude of her ancestors' power to save her neighborhood before the gods burn it to the ground.
Praise for Wings of Ebony
"The best fantasy novels invent alternate worlds in order to illuminate our own. Wings of Ebony is one of them—a bold, inventive, big-hearted and deeply perceptive vision of a Black girl's journey to reclaim her magic from forces determined to destroy her. The parallels to our current reality are unmistakable and the book brings us all a much-needed ray of hope." —Nicola Yoon, #1 New York Times bestselling author of Everything, Everything and The Sun Is Also A Star
"Wings of Ebony is an intense, page-turner of a book about magic, sisterhood, community and family. Debut author J. Elle offers us a richly-wrought world, weaving together past and present with a rare blend of deft insight and keen humor that leaves the reader wanting more." —Sabaa Tahir, #1 New York Times bestselling author of An Ember in the Ashes 
"There is little on earth more powerful than seeing a reflection of the self, not only as it is, but also as it COULD be. Wings of Ebony is a rooftop-shout of affirmation that black girls from ALL walks of life are magic." — Nic Stone, #1 New York Times bestselling author of Dear Martin.
 "A remarkable, breathtaking, earthshaking, poetic thrillride bristling with magic, life, and so much love. Rue and her incredible adventures will change the world." —Daniel José Older, New York Times bestselling author of Shadowshaper
"A powerful, thoughtful, and masterful exploration of #BlackGirlMagic that enthralls you from the first page and refuses to let you go." —Alechia Dow, author of The Sound of Stars
"A heart-racing thrilling fantasy that sucks you in from the very first page. J. Elle has such a voracious voice and she's about to change the game!" —Tiffany D. Jackson, author of Grown and Monday's Not Coming
"J. Elle has crafted an unapologetic heroine determined to save her block from agents of stolen magic in this immersive hidden world. A thrilling and irresistible new saga about loyalty and lineage." — Kim Johnson, author of This Is My America
"Debut author Elle's characters shine with determination and heart. The tough realities of living in an underserved community fortify Rue against great odds but also influence her reluctance to accept kindness and support. Rue grapples with her sense of community, family, and duty; despite the size of her foes and fears, she never stops fighting for justice. Heart-stopping action and intrigue from cover to cover." 
— Kirkus Reviews
'This is the debut fantasy we need right now!" 
— Ms. Magazine
"To offer much more story would be to undermine the care with which Elle tells the story of a girl discovering the breadth of her power and the richness of her cultural heritage. But allegory abounds, touching on systemic racism, the destruction of communities, colonization and the ways — good and bad — our lives and actions are interconnected."
— The Houston Chronicle
"A riveting first installment in a duology that reminds us of the power of Afro-futurism and the Black fantastic...With Rue at their side, a new generation of readers will feel empowered to love the Houston of their minds and bring to life the worlds they imagine." 
— Texas Observer
"An ode to family, true belonging and magic. Highly recommended for all collections."
— School Library Journal, starred review
"Full of grief, love, and vengeance, this poignant debut encourages readers to embrace the whole of their identities to overcome pain."
— Publishers Weekly