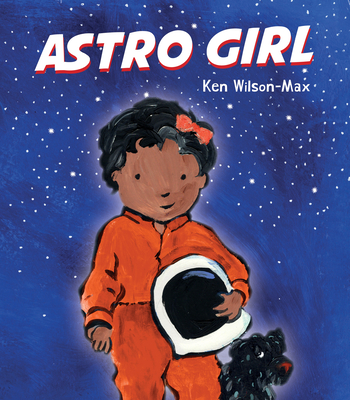 Astro Girl
Publication Date:
September 3rd, 2019
Special Order - Subject to Availability
Description
The stars are the limit for a little girl who acts out her wish to be an astronaut — inspired by a very special person.
Astrid has loved the stars and space for as long as she can remember. "I want to be an astronaut!" she says to everyone who will listen. While her mama is away, Astrid and her papa have fun acting out the challenges an astronaut faces on a space mission — like being in zero gravity ("I can do that all day long!" she says), eating food from a kind of tube, and doing science experiments with the help of cookie sheets. When at last it's time to meet Mama at the air base, Astrid wears her favorite space T-shirt to greet her. But where exactly has Mama been? Channeling a sense of childlike delight, Ken Wilson-Max brings space travel up close for young readers and offers an inspiring ending.
Praise for Astro Girl
Wilson-Max hits the trifecta with a nurturing primary-caregiver father and a successful STEM-career mother heading this loving family of color. The simple, present-tense text questions none of these things, normalizing them for a preschool audience. His characteristic black-lined, painterly acrylics place this family in a cozy home complete with dog. Backmatter offers some further information, most notably a timeline of women, including women of color, in space. A girl-power book that any child will enjoy.
—Kirkus Reviews
Wilson- Max, who grew up in Zimbabwe and studied design in London, offers a playful, conversational text and bold, vibrant acrylic paintings, which depict Astrid and her parents with brown skin and black hair. The illustrated back matter introduces five notable women astronauts from India, Russia, the U.K., and the U.S. (including Shannon Lucid and Mae Jemison), along with a few facts related to space travel. First published in England, this picture book offers an inclusive, worldwide vision of astronauts for all little children who dream of space travel.
—Booklist Online
Large acrylic paintings in rich jewel tones bring Astrid's world to life. From her telescope and rocket T-shirt, to her Space Hoops cereal, this preschooler is on her way to achieving her dreams. This author/illustrator of the "Max" series continues his perfect connection to young listeners and concludes with 10 fast facts on astronaut history.
—School Library Journal
Wilson-Max uses bold colors and thick black lines in his painterly illustrations, which convey the warmth and joy of a family of color consisting of an impressively accomplished working mother, a loving father as primary caregiver, and a young girl who dreams of reaching for the stars.
—The Horn Book