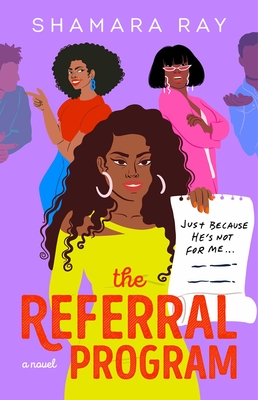 The Referral Program: A Novel
Publication Date:
August 29th, 2023
Usually Ships in 1 to 5 Days
Description
From the bestselling author of Recipe for Love and You Might Just Get Burned comes an engaging novel about a group of single women who come up with a plan to try and meet Mr. Right.
Dylan, Ivy, and Brooke are successful, brilliant, confident, and beautiful. And yet, they find themselves in their mid-thirties and very single. Tired of searching for her Mr. Right and finding only Mr. Wrongs, Dylan comes up with a plan to solve all of their single-lady woes.
The plan is simple: Each friend will refer men they already know who would make perfect partners but just aren't right for them. The ladies must then navigate the ups and downs of dating their friends' referrals in the hopes of finding the One. But will they actually each find their perfect match, or will the plan cause fractures between them and the men they've referred—or worse, among each other?
Funny and sexy, The Referral Program will make you want to delete your dating apps and ask your friends if they've known your perfect Mr. Right all along.
About the Author
Shamara Ray is a graduate of Syracuse University. She is the author of Recipe for Love, Close Quarters, You Might Just Get Burned, Rituals for Love, and Cater to You. Ray has a penchant for the culinary arts and enjoys entertaining friends and family in her North Carolina home. Learn more at her website ShamaraRay.com.
Praise for The Referral Program: A Novel
"Fun…Endearing…Replete with comedic mishaps and personal growth as each woman learns about herself in the process."—Publishers Weekly