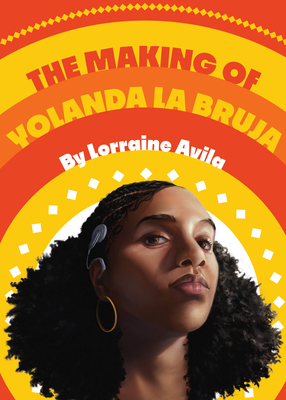 The Making of Yolanda la Bruja
Publication Date:
April 11th, 2023
Publisher:
Levine Querido
Usually Ships in 1 to 5 Days
Description
"Elizabeth Acevedo has said that reading Lorraine Avila feels like an "UPPERCUT to the senses." You've never encountered an author with prose of this sensitivity and fire.
Yolanda Alvarez is having a good year. She's starting to feel at home Julia De Burgos High, her school in the Bronx. She has her best friend Victory, and maybe something with José, a senior boy she's getting to know. She's confident her initiation into her family's bruja tradition will happen soon.
But then a white boy, the son of a politician, appears at Julia De Burgos High, and his vibes are off. And Yolanda's initiation begins with a series of troubling visions of the violence this boy threatens. How can Yolanda protect her community, in a world that doesn't listen? Only with the wisdom and love of her family, friends, and community – and the Brujas Diosas, her ancestors and guides.
 
The Making of Yolanda La Bruja is the book this country, struggling with the plague of gun violence, so desperately needs, but which few could write. Here Lorraine Avila brings a story born from the intersection of race, justice, education, and spirituality that will capture readers everywhere.
 P R A I S E
Common Sense Media Selection for Teens
★ "Inspiring… full of heart and spirituality."
—Shelf-Awareness (starred)
 ★ "A sharply rendered portrait...Avila's striking debut is not to be missed."
—Booklist (starred)
★ "Unabashedly political…A remarkable, beautifully rendered debut."
—Kirkus (starred)
★ "Suspenseful…A boldly characterized protagonist whose intersectional identities as a queer and Deaf person of color informs her sharp-witted narrative voice and conviction around combatting racism within her community."
—Publishers Weekly (starred)
"Impressive and urgent. [Avila] takes on racism, violence and injustice with a mix of magic, spirituality and care that few have attempted—and she's captivatingly successful."
—Ms. Magazine
"Explores gun violence, race, justice, education, and spirituality, which holds this book like a canopy, enclosing and exposing layers of Blackness and the growth and sense of belonging community can provide."
—Al Dia
"A necessary story about gun violence, race, and education."
—Refinery29
"Gripping…skillfully depicts the reality of growing up as a Black Latinx teen in the midst of racial violence and social upheaval… Avila carefully demonstrates the tremendous strength in Yolanda's community and the deep roots of her spiritual life, which keep her grounded as she steps into her full power."
—Horn Book
Praise for The Making of Yolanda la Bruja
[STAR] "Unabashedly political…A remarkable, beautifully rendered debut." —Kirkus Reviews (starred)
"A masterclass in empowering the youth to reclaim what is theirs." – HipLatina
"Big-hearted, potent, and piercingly smart… More than anything, The Making of Yolanda la Bruja is the story of a determined young woman who embraces a fantastic and sometimes complicated heritage… Yolanda shines brilliantly in this story, and Avila is to be credited for gifting readers with such a compelling character." – Locus Magazine
[STAR] "Inspiring… full of heart and spirituality." — Shelf-Awareness (starred)
"Tackles themes of race, gun violence, spirituality, justice, and education with an empathetic and deft hand"—Autostraddle
"A necessary story about gun violence, race, and education." —Refinery 29
"Vividly imagined and nuanced, Yolanda's story is one not to be missed." — BuzzFeed
"Lorraine Avila's impressive and urgent YA debut is a feat of courage, passion and originality. In it, she takes on racism, violence and injustice with a mix of magic, spirituality and care that few have attempted—and she's captivatingly successful." — Ms. Magazine
[STAR] "A sharply rendered portrait...Avila's striking debut is not to be missed." — Booklist (starred)
Most Anticipated YA of 2023 - BookPage
Most Anticipated YA of 2023 - The Mary Sue
"Gripping… Avila skillfully depicts the reality of growing up as a Black Latinx teen in the midst of racial violence and social upheaval… Avila carefully demonstrates the tremendous strength in Yolanda's community and the deep roots of her spiritual life, which keep her grounded as she steps into her full power." — Horn Book
[STAR] "Suspenseful… Avila skillfully cultivates a unique and magical spin on a grounded, socially conscious plot that is rich in Afro-Latinx cultural detail. Yolanda is a boldly characterized protagonist whose intersectional identities as a queer and Deaf person of color informs her sharp-witted narrative voice and conviction around combatting racism within her community." — Publishers Weekly (starred)
Most Anticipated YA of 2023 - HipLatina