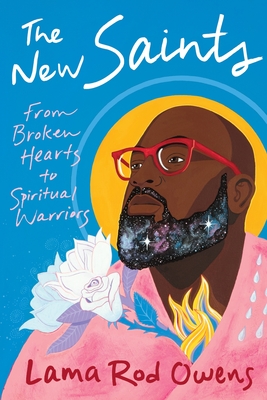 The New Saints: From Broken Hearts to Spiritual Warriors
Publication Date:
October 31st, 2023
Usually Ships in 1 to 5 Days
Description
A USA Today Bestseller
A Buddhist Lama and intersectional thought leader shares a guide for those who would dream a more just, ethical world into being.
Saints, spiritual warriors, bodhisattvas, tzaddikim—no matter how they are named in a given tradition, they all share a profound wish to free others from suffering. Saints are not unattainable beings of stained glass or carved stone. "Saints are ordinary and human, doing things any person can learn to do," teaches Lama Rod Owens. "Our era calls for saints who are from this time and place, speak the language of this moment, and integrate both social and spiritual liberation. I believe we all can and must become New Saints."
With The New Saints, Lama Rod shares a guidebook for becoming an effective agent of justice, peace, and change. Combining personal stories, traditional teachings, and instructions for contemplative and somatic practices, he shares inspiring resources for self-exploration and wise action. Each chapter reinforces the truth of our interdependency—allowing us to be of service to the collective well-being, access the unseen realms of divine guidance and strength, and call on the support of the countless beings who share our struggles and hopes.
The status quo of our society is crumbling, and rightly so. But what future will emerge to replace it? "There's nothing like crisis to wake us up and force us to get serious about change," says Lama Rod. "Ancient, powerful magic is returning. With the end of the lies of the old world comes the awakening of truth." For those who have the willingness to allow our hearts to break, disrupt systems of violence, and let deep, authentic care guide our actions instead of fear and hate, here is a clarion call for becoming a spiritual warrior—a human refreshed, serving a vision of a world shaped by love.
Praise for The New Saints: From Broken Hearts to Spiritual Warriors
"Owens says, a person who has genuinely "chosen to give a s—" about themselves and others around them can make the world a better place. For putting this into practice, he offers guidelines that are both ordinary and accessible." —Lion's Roar
"It will satisfy readers in search of sharp, creative insights on social justice, collective action, and compassion for oneself and others. This has the power to change perceptions." —Publishers Weekly
"The New Saints will challenge your current understanding and offer fresh inspiration about ways, together, we can bring healing to our beautiful and broken world. This is a bold and powerful offering—one that attunes to our times with great lucidity, wisdom, and heart." —Tara Brach, author of Radical Acceptance and Radical Compassion
"The New Saints is Lama Rod Owens's literary embodiment of his compassionately brave, authentic, loving, and fierce essence. Opening our broken hearts is not easy, but disrupting the reigning terror is necessary without becoming the entities we seek to eradicate. Lama Rod's compelling storytelling and sacred teachings remind and teach us that it is through acknowledging and facing our pain, our trauma, and, yes, the often-complex contradictions in our lives that we will create opportunities to cultivate compassion for ourselves and all beings everywhere without exception." —Aishah Shahidah Simmons, editor of Love WITH Accountability, producer and director of NO! The Rape Documentary
"Step-by-step, Lama Rod Owens prods us to be bold and outrageous, to give up on the idea of justice and instead commit to the wild and arduous task of embodied liberation. In this, we find freedom and power. In this, our hearts begin to heal. In this work, we discover that in all our messy, inspired humanity, we are, indeed, the New Saints." —Swami Jaya Devi, author of Embodied
"In The New Saints, Lama Rod Owens offers revelation. The loving support demonstrated in this important book provides a model of liberated spiritual practice that helps us through the accidental feedback loops of confirmation bias and spiritual bypassing so that we can step into becoming a deeply embodied New Saint. The New Saints, like Lama Rod himself, exists for these times—and the world, and all of us, are so much better off because of this." —Lama Justin von Bujdoss, author of Modern Tantric Buddhism
"With finesse and honesty, Lama Rod Owens keeps the dharma radical by transforming the vocabulary of Buddhism into contemporary American terms steeped in social justice—incarceration and freedom, systemic oppression and suffering, abolition and liberation, work and fierceness, joy and love. What an accomplishment The New Saints is, opening the doors of the dharma to new generations!" —Sarah Jacoby, author of Love and Liberation
"The New Saints is breathtakingly honest. From grief and loneliness to radical acceptance, Lama Rod Owens beautifully weaves in the complexities of being human and truly getting free. It is a gift to be on this Earth in the same space and time as Lama Rod Owens." —Nova Reid, author of The Good Ally
"In a world where performative goodness often masquerades as spirituality, The New Saints offers a refreshing and inspiring guide to living a life grounded in truth, compassion, and authentic service." —Sah D'Simone, author of Spiritually Sassy