Preorder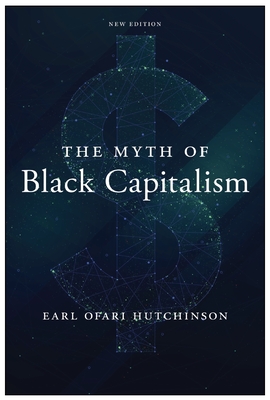 The Myth of Black Capitalism: New Edition
Publication Date:
January 1st, 2024
Publisher:
Monthly Review Press
Description
Deciphers the history of "Black capitalist" rhetoric-- and how it serves to enrich a minuscule few at the expense of the many
In his 1970 book The Myth of Black Capitalism, Earl Ofari Hutchinson laid out a rigorous challenge to the presumption that capitalism, in any shape or form, has the potential to rectify the stark injustices endured by Black people in America. Ofari engaged in a diligent historical review of the participation of African Americans in commercial activity in this capitalist country, demonstrating conclusively that the creation of a class of Black capitalists failed to ameliorate the extreme inequity faced by African Americans. Even "Buy Black" campaigns which aimed to "keep resources in the community," he showed, reinforced a Black bourgeoisie which often enough exploited the Black underclass to increase their own wealth. Whether Black capitalists dared to go up against, or merely tried to find their place amongst, giant monopoly corporations, Ofari argued they would make little substantive progress in the lives of Black people. And whether calls for "Black capitalism" came from within the Black Power movement for Black economic autonomy, or were appropriated by the old-line Black elite, in the end the promotion of the myth of "Black capitalism" was a project of the Black elite which solely served the interests of the capitalist managerial class.
It was Richard Nixon who first introduced the notion of "Black capitalism" into mainstream American discourse, coopting the term at a time when African Americans comprised only 3% of the nation's employers. That number dwindled thereafter, and yet the term only gained cachet following the election of Barack Obama and the increased visibility of the Black elite. Thankfully, just as the rhetoric of 'Black capitalism" is being resuscitated, it is being confronted once more. In this second edition of Earl Ofari's pathbreaking book, a Monthly Review Press classic, the author adds a new Introduction, which shows both the enduring strength of the ideology of Black capitalism and its continued inability to change the nature of what has always been a racialized system of production and distribution. Ofari reveals "Black capitalism" for what it really is: a diversion from the struggle for liberation that works at cross purposes with the fight against exploitation, and a fantasy which enriches a minuscule few at the expense of the many. The Myth of Black Capitalism argues definitively that only a direct assault on the oppression of Black people and the capitalist system itself can bring this exploitation to an end.