Discounted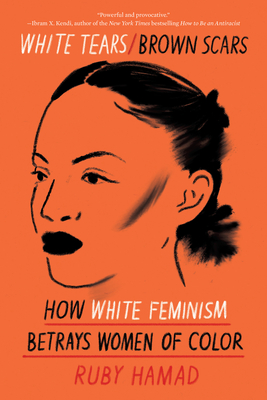 White Tears/Brown Scars: How White Feminism Betrays Women of Color
Previous price:

$16.95
Current price:

$14.95
Publication Date:
October 6th, 2020
Pyramid Books
2 on hand, as of Dec 3 8:07am
On Our Shelves Now
This book could not have come at a better time as a vital contribution to antiracist and intersectional feminist literature. Hamad is extremely thorough in her examination of white feminism and its long history of weaponization against BIPOC. This work is accessible to newcomers to these topics, and illuminating for those who have some background in these discussions. Hamad shows us how deep the betrayal of white feminism goes, into politics, the media, and our interpersonal relationships, so that we might call it out and stop it in its tracks.
October 2020 Indie Next List
Ruby Hamad delivers us a meticulously researched, incisive, beautifully written, and much-needed look at how white women historically have used and continue to employ their privileged, patriarchy-rooted racial status as 'damsel' paragons to undercut and suppress BIPOC women. I lost count of the number of times I found myself emphatically nodding along while turning the pages. Everyone needs to read this book, which will definitely be a mainstay on Duende's 'Decolonize Your Mind' reading list.
Winter 2020 Reading Group Indie Next List
Description
Called "powerful and provocative" by Dr. Ibram X. Kendi, author of the New York Times bestselling How to be an Antiracist, this explosive book of history and cultural criticism reveals how white feminism has been used as a weapon of white supremacy and patriarchy deployed against Black and Indigenous women, and women of color.
Taking us from the slave era, when white women fought in court to keep "ownership" of their slaves, through the centuries of colonialism, when they offered a soft face for brutal tactics, to the modern workplace, White Tears/Brown Scars tells a charged story of white women's active participation in campaigns of oppression. It offers a long overdue validation of the experiences of women of color.
Discussing subjects as varied as The Hunger Games, Alexandria Ocasio–Cortez, the viral BBQ Becky video, and 19th century lynchings of Mexicans in the American Southwest, Ruby Hamad undertakes a new investigation of gender and race. She shows how the division between innocent white women and racialized, sexualized women of color was created, and why this division is crucial to confront.
Along the way, there are revelatory responses to questions like: Why are white men not troubled by sexual assault on women? (See Christine Blasey Ford.) With rigor and precision, Hamad builds a powerful argument about the legacy of white superiority that we are socialized within, a reality that we must apprehend in order to fight.
"A stunning and thorough look at White womanhood that should be required reading for anyone who claims to be an intersectional feminist. Hamad's controlled urgency makes the book an illuminating and poignant read. Hamad is a purveyor of such bold thinking, the only question is, are we ready to listen?" —Rosa Boshier, The Washington Post
Praise for White Tears/Brown Scars: How White Feminism Betrays Women of Color
The Weekend Edition, A Beginner's Guide to Antiracism Reading Pick
"A stunning and thorough look at White womanhood that should be required reading for anyone who claims to be an intersectional feminist. Hamad's controlled urgency makes the book an illuminating and poignant read. Hamad is a purveyor of such bold thinking, the only question is, are we ready to listen?"—Rosa Boshier, The Washington Post
"In her debut book, journalist Ruby Hamad explores the connections between white feminism and white supremacy . . . In breaking down examples from history, as well as from her own life as an Arab woman working in Australian media, Hamad offers a haunting but powerful reading of white feminism and its lasting impacts on marginalized communities."—Annabel Gutterman, TIME
"[A] must–read." —Keely Weiss, Harper's Bazaar
"Exactly the kind of book that every ally needs to read right now." —Laura Hanrahan, Cosmopolitan
"Hamad offers a comprehensive look at the ways in which women of color have been dismissed by society . . . This book should be considered required reading." —Lauren LeBlanc, The Observer
"It's eye–opening and necessary reading for anyone, but especially white women who consider themselves feminists." —BuzzFeed
"[A] provocative exploration of the ways—both historic and current—that white women have been dangerous agents of white supremacy . . . Hamad is a rigorous historical reporter and a powerful storyteller, and her work in White Tears/Brown Scars will leave readers appropriately unsettled, enraged, and urged to take action against the Amy Coopers of the world." —Kristin Iversen, Refinery29
"Amid a sea of recent books about white women's commitment to white supremacy, White Tears/Brown Scars stands out."—Bitch
"In this endlessly readable debut, Ruby Hamad expertly illustrates the multitude of historical and contemporary ways in which white feminism has been used as a tool of white supremacy. White feminists: READ THIS BOOK." —Karla Strand, Ms. Magazine
"With scholarly but highly engaging prose, Hamad details white women's roles in oppression across continents, a much–needed history lesson for those inclined to reduce racism to individual behavior . . . For readers truly interested in dismantling white supremacy, this is a must–read. An extraordinary book for anyone who wishes to pay more than lip service to truly inclusive, intersectional feminism." —Kirkus Reviews (starred review)
"White Tears/Brown Scars belongs in twenty–first–century feminist canon. It's grounded in deep historical context, yet thoroughly of the present. It makes bold intellectual arguments, but is extremely readable and grounded in human experience. If you are a white woman, it may make for uncomfortable reading: this book takes the most precise scalpel to the way that white women leverage race and gender of any book that I've read. If you are a woman of color, perhaps it will make you feel seen. If you are a man, read it for your own education! Hamad has written a truly exceptional, agenda–setting work."—Rachel Hills, author of The Sex Myth
"An essential guide for those who want to be truly intersectional in their feminism. Ruby Hamad skillfully distills history, academic research, and lived experiences of women of color to create an engaging inquiry into white supremacy and the role of white women within it."—Zeba Talkhani, author of My Past Is a Foreign Country