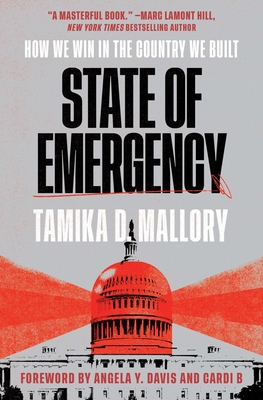 State of Emergency: How We Win in the Country We Built
Publication Date:
May 3rd, 2022
Publisher:
Atria/Black Privilege Publishing
Usually Ships in 1 to 5 Days
Description
Social justice leader Tamika D. Mallory states her case for action and reveals "the power we all have to win transformative change" (Marc Lamont Hill, New York Times bestselling author) in this searing indictment of America's historical, deadly, and continuing assault on Black and brown lives.
Drawn from a lifetime of frontline culture-shifting advocacy, organizing, and fighting for equal justice, State of Emergency makes Mallory's demand for change and shares the keys to effective activism both for those new to and long-committed to the defense of Black lives.
From Minneapolis to Louisville, to Portland, Kenosha, and Washington, DC, America's reckoning with its unmet promises on race and class is at a boiling point not seen since the 1960s. While conversations around pathways to progress take place on social media and cable TV, history tells us that meaningful change only comes with radical legislation and boots-on-the-ground activism. Here, Mallory shares her unique personal experience building coalitions, speaking truth to power, and winning over hearts and minds in the struggle for shared prosperity and safety.
Forward-looking, steeped in history, and rich with stories from life on the margins of American life, State of Emergency effortlessly gives us the tools we "need to fight injustice and find a pathway towards true freedom" (Marie Claire).
Praise for State of Emergency: How We Win in the Country We Built
"An urgent call for racial justice that demands attention, discussion, and action."
— Kirkus Reviews (starred review)
"Mallory gives readers the tools they need to fight injustice and find a pathway towards true freedom."
— Marie Claire
"Shifting between outrage, hope, and resolute determination, this call to action will resonate with readers already fighting for racial justice, as well as those looking to join the movement."
— Publishers Weekly
"Mallory provides a history of racism in the U.S. as well as equity-centered pathways forward."
— Ms. Magazine